Three Little Kittens is number sixteen of the thirty Pororo nursery rhymes.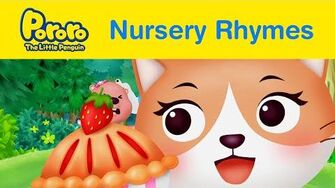 The three little kittens they lost their mittens and they began to cry oh mother dear we sadly fear our mittens we have lost what lost your mittens you naughty kittens then you shall have no pie meow meow meow meow we shall no pie the three little kittens they found their mittens lying on the ground oh mother dear see here see here our mittens we have found what found your mittens you good little kittens now you shall have some pie meow meow meow meow we shall have some pie
Characters
Edit
Poby
Eddy
Loopy
Crong
Pororo
Ad blocker interference detected!
Wikia is a free-to-use site that makes money from advertising. We have a modified experience for viewers using ad blockers

Wikia is not accessible if you've made further modifications. Remove the custom ad blocker rule(s) and the page will load as expected.