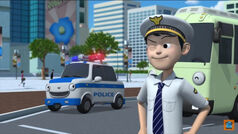 Rookie is a policeman because he was kind and brave.
Rookie was born in Seoul last year since in 1989.
Also Rookie's Mother she's 79 years old because she died of suffering heart attack.
Until then, since his father's death and he suffering of leukemia.
Now Rookie is now a brave. Korean Police Officer and the Leader of the Emergency Center.
His real name is Kyung Jae-Song
His birthday is August 14, 1989
Relatives
Edit
Soon Min Yin (mother) (deceased)
Kim Sul Min (father) (deceased)
Tsu Jing Yin (brother)
Aiko Lin Yin (sister)
Joon Su (nephew)
Um Sang (son)
Hana (wife)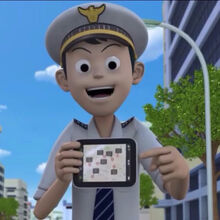 Rookie he is a Korean.
He studied at Yonsei University.
In "The Treasure Is Mine!" Rookie he was a younger age. In English he has a male voice, but in Korean he had a female voice.
He crack the blue amulet and he transforms into Nightmare Rookie.
Also available in Tayo the Little Bus: Take-n-Play.
He is also a singer.
In the future appearance, he has a black eyeglasses also called him "Sci-Rook" but he's a police department researcher and scientist.
Ad blocker interference detected!
Wikia is a free-to-use site that makes money from advertising. We have a modified experience for viewers using ad blockers

Wikia is not accessible if you've made further modifications. Remove the custom ad blocker rule(s) and the page will load as expected.