| | |
| --- | --- |
| | Do NOT edit again, A Wikia contributor! |
"I'm not scared of monsters!"
—Georges
Georges
is a gray little bus.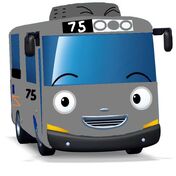 Georges is one of Lani's enemies (sometimes), one of Tayo's twin cousins and one of the newest recruits of the little buses. He has an orange lightning bolt on his sides, has the number 75 and can be a bit of a showoff almost like Hotshot Cecily. Although he has a crush on Nuri, like Rogi he is anyone's friend (except Lani sometimes). Normally he helps Cito around the garage (including everywhere), and his favorite game is "snap". He loves playing games with Tayo and can look after baby buses very well. Georges and Lani do not get along sometimes even though Gani really wants them to. He, just like Hotshot Cecily in "Slip & Slide" wanted to go to Cars Land, but ended up having an argument with Lani where they wanted to go. He made an appearance in Rogi Gets A Furby.
Georges' birthday is on July the 7th.
Georges' number was originally going to be 69, but it was changed to 75.
he is a year older than Tayo.
Ad blocker interference detected!
Wikia is a free-to-use site that makes money from advertising. We have a modified experience for viewers using ad blockers

Wikia is not accessible if you've made further modifications. Remove the custom ad blocker rule(s) and the page will load as expected.