Fimbo
is a yellow-and-green Fimble from the TV show
Fimbles
.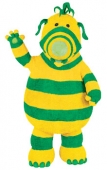 Fimbo is boisterous, fun-loving and energetic. He's sometimes mischevious and sometimes serious but he's always eager to find things out and comes up with many inventive ideas and schemes. Fimbo loves his friends Rockit's high energy and enthusiasm - when things go wrong for the pair, and they sometimes do, their irrepressible good humour and inventiveness save the day!
Fimbo loves music and has his own special musical instrument, the Shimmy Shaker, which inevitable accompanies the Fimbles' musical adventures and which he plays with great vigour. And last but by no means least, Fimbo loves to eat! Especially apples and his favourite Crumble Crackers!
Fimbo is the only male Fimble.
Ad blocker interference detected!
Wikia is a free-to-use site that makes money from advertising. We have a modified experience for viewers using ad blockers

Wikia is not accessible if you've made further modifications. Remove the custom ad blocker rule(s) and the page will load as expected.